Puppy Health
From birth to around 8 weeks
All puppies are wormed at least three times, given their first vaccines, and are taken to the vet for a "well-puppy checkup". They come with registration papers from either AKC or APRI.  They are given their first puppy vaccine at 6 weeks old.  Also, at 6 weeks our puppies are seen by our veterinarian for a well-puppy checkup. He checks eye, mouth, heart, lungs, and joints. We only sell totally healthy puppies!
We feed Purina Puppy Chow - Complete to our puppies. They have done very well on this food, and it is usually quite easy to find in most areas. We recommend that you purchase a small bag to start with and then if switching brands, do so gradually to make the transition go smoothly.
Reservations
You many reserve a puppy with a $100 deposit. This will hold a puppy from a current or upcoming litter. Deposits are refundable until the puppies are 4 weeks old if you should change your mind or transferable if you don't find the puppy you want and would like to wait for the next litter. We will not hold a puppy unless a deposit is made.
It is first come, first serve with the pick of the litter. The first deposit first gets first choice of puppy. They can go home at around seven to eight weeks old. Occasionally we will keep a puppy longer for someone if there are special circumstances, but we cannot guarantee this.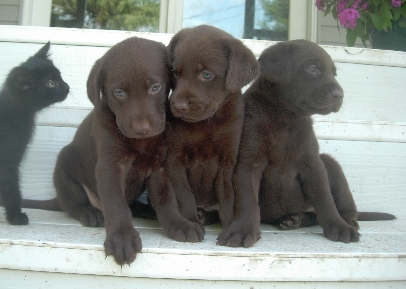 Deposits
Deposits can be made four ways. In person, Venmo, a check by mail or PayPal. First contact us by phone, text or email to check on the availability of the puppies. Be sure to tell us what breed, color, and gender you want. If there is a specific puppy, let us know by the number assigned to it or with an added description of size, color, etc.
Mail Deposit
If you would like to reserve a puppy from a present or upcoming litter, send a $100 deposit by mail to:
Jeremy Schelhaas
46846 W Highway 38
Sioux Falls, SD 57101
Please note that it would be best to contact us before sending your deposit so you can make sure there is a puppy available. However, deposits are refundable or transferable if you don't find the puppy you want and would like to wait for the next litter.
Venmo - Payment can be made to: 507-227-4118 it will come up as @Arvin-Schehaas. We can send you a Venmo link if you would like to use this service.
PayPal Deposit
If you would like to pay your $100 deposit using PayPal, please use the link provided (blue button "Make a Deposit With PayPal"). Our PayPal account email address is ourpups4sale@gmail.com  Note: There is no shipping, tax or handling charge.
Delivery
Whichever way the puppy is delivered, please contact us as soon as possible to arrange a time and place that works for all parties involved.
From the Farm
We often have people come out to our acreage to pick up their puppies when they are around seven to eight weeks old. We are located near Sioux Falls, SD. https://maps.app.goo.gl/QHwVWGsyvUnjXtqdA
Meeting Up
We occasionally make trips to the Mankato area with litters. We tend to coordinate these trips when we have more than two puppies going to the same area, it gets to be too much traveling for only one or two puppies at a time. Please let us know as soon as possible if you are interested in doing this as we cannot guarantee this option for delivery.
We Are No Longer Flying Puppies
At this time, we are no longer transporting our puppies by air. New USDA regulations have caused us to change this part of our family business.  People are welcome to fly into Sioux Falls, SD and we can meet them at the airport with their puppy. If you are interested in this option, we can work with you on the details.