July 2018 - We have a new litter of chocolate lab puppies. More info soon.
7 male and 2 females!
Chocolate Lab Puppies – 8/5/15
Mother: Ghiradelli
Father: Houston
Date born: August 5, 2015
Date Available: After September 23, 2015
Males available: NO
Females available: NO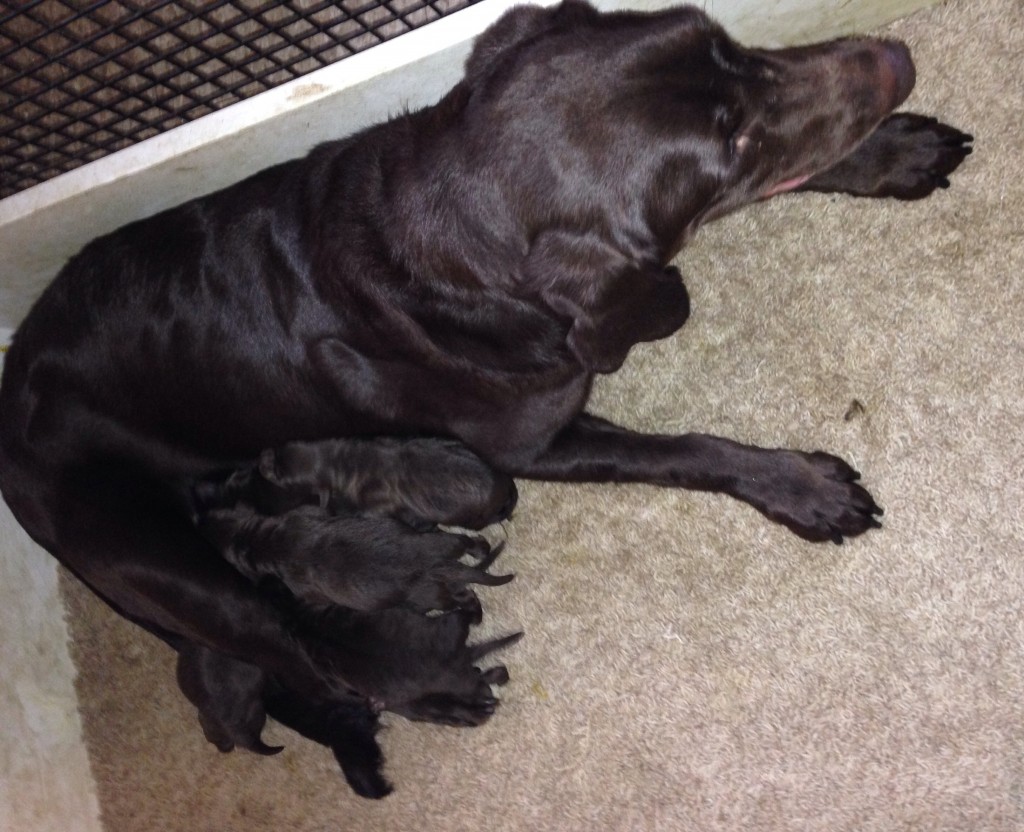 August 5, 2015
Delli had 7 puppies today, all females! This is Delli's second litter and she is doing an excellent job of mothering. All of the puppies have full round tummies.
Delli is the the daughter of our Cocoa and Harley. She is three years old now and she weighs around 65 pounds. She has a very dark chocolate coat. She is OFA certified with "Good" ratings.
The father of the puppies is our male, Houston. You can read more about him on our Chocolate page.
September 18, 2015
We currently have one female available from Delli's litter, not exactly sure which one it is as one family needs to pick their's yet.  The puppies are 6 and a half weeks old now.  We have wormed the puppies three times now, at 2 weeks, 4 weeks and at 6 weeks. This helps to prevent parasites in the puppies. We will continue to worm them every two weeks while they are with us.
The puppies have been seen by our vet for a "well-puppy" check and all of them turned out "perfect"! They have also received their first set of puppy vaccinations. They will be ready to go to new families next weekend.  Contact us with any questions.
September 26 -Delli's puppies have all been spoken for now.