Golden Retriever Puppies
Winter 2019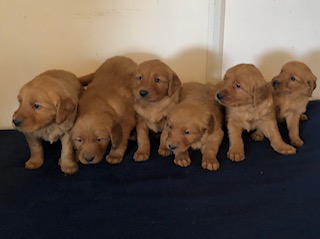 December 20, 2019
Buddy and Belle had seven Golden Retriever puppies on December 14, 2019. There are six females and only one male. The puppies are growing really well.
Buddy is a very dark red Golden Retrievers, Belle is a medium colored Golden.  Both parents are registered with AKC. They both have that awesome lovable Golden Retriever nature!
Update - January 28 - The puppies had their health check with our vet today and all of them were perfect! They had their first puppy vaccinations.